"Here Comes The Sun… What You Need To Know"
As part of our commitment to providing our patients with FREE access to education, to better understand their health needs and goals, this is a reminder of our upcoming online webinar
Presenters include:
Dr Nick Kokotis – Overview of Skin Cancer – Nick graduated from Melbourne University in 1990, and spent five years training in various hospitals before commencing General Practice. He worked in Tasmania then in North Queensland for another six years before joining Bluff Road. He is a member of the Skin Cancer Society of Australia and has completed a Post Graduate Certificate in skin cancer. Nick regularly conducts lectures to other healthcare professionals about skin cancer and the use of medical and aesthetic lasers.
Dr Myn Lee – What You Need to Know About Melanoma – Myn is a General Practitioner with an interest in all things related to skin. She obtained her primary medical degree from the University of Melbourne, and holds a Fellowship from the Royal Australasian College of General Practitioners. She also holds a Postgraduate Diploma in Practical Dermatology from Cardiff, UK; and has several other Certificates in Skin Cancer and Dermoscopy. Myn strongly believes in constantly updating her knowledge and skills, and is working towards a Fellowship from the Skin Cancer College Australasia. Before transitioning into full time skin cancer work, Myn spent several years working as a General Practitioner in rural Victoria as well as in Singapore. She is able to provide advice and treatment of skin cancers, including non-surgical treatment, simple excisions, as well as flaps and grafts. She is also happy to discuss all other dermatological concerns.
Dr Jenny Kimmins – Cosmetic Treatment for Sun Damaged Skin – Jenny spent many years in General Practice before developing an interest in management and treatment of skin conditions. She has over eight years experience in cosmetic medicine, including the management of acne and rosacea, laser skin treatments, as well as dermal fillers and anti-wrinkle injections. She recently completed a postgraduate Diploma in Dermatology with the Australian Institute of Dermatology. She is also a trained skin cancer physician, and has a special interest in treating sun-damaged skin.
This is the fourth instalment to our education series. These are a must attend webinar as recordings will not be shared after the session.How to register for the webinar: you can either scan the code below or alternatively register through this link https://bit.ly/3S4Q1r5.
Please note these Webinars will not be available for viewing after the session.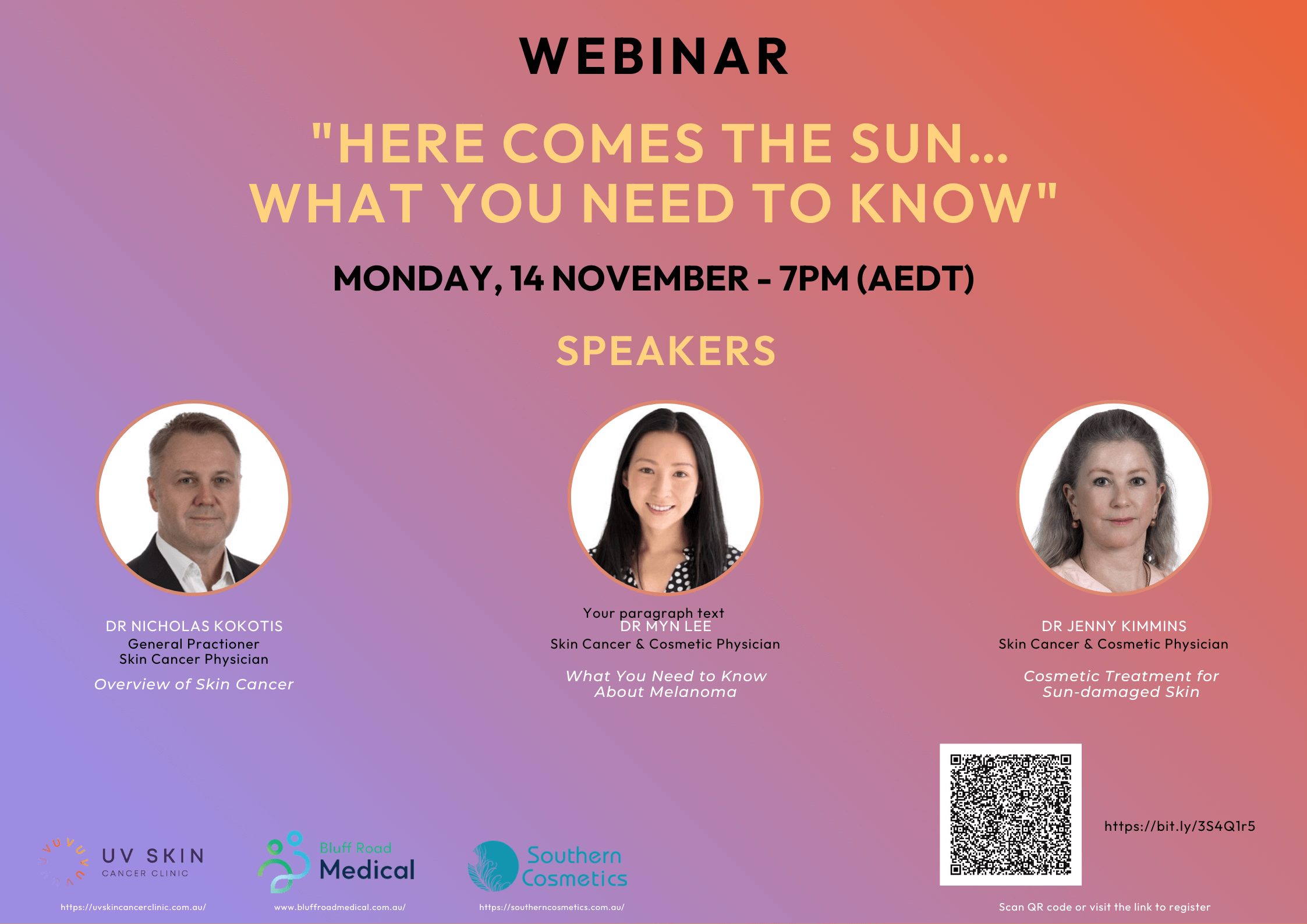 We'd appreciate your feedback on our Webinar Series and thoughts on future topics. Please complete this short survey https://www.surveymonkey.com/r/YY96QDF