Breaking news
From November 1, 2023, every Australian aged over 65 is able to receive free protection against shingles with Shingrix being the preferred vaccine. This initiative is part of an $800 million investment in immunization, designed to safeguard the health of our senior citizens. The previously funded Zostavax will no longer be available after 31 October 2023.
What is Shingles?
Shingles is a viral infection caused by the reactivation of the chickenpox virus and typically presents as a painful, blistering rash on one side of the face or body that lasts 10-15 days
One in five people who gets shingles may develop severe and long lasting chronic nerve pain known as post-herpetic neuralgia
The risk of shingles and severity of the rash and neuralgia increases with age, making Australians aged 65
Who is eligible?1. Adults aged 65 years and over (>50 if Indigenous), including those who have self-funded the first dose of Shingrix
2. Those aged 18 years and older, who have previously been unable to have Zostavax due to a weakened immune system (see image below for specific conditions)
Please note:
Due to a government delay in being able to order vaccines, appointments for Shingrix can only be made from December 1, 2023
Those who have received the Zostavax vaccine cannot receive Shingrix for 5 years.
If you have experienced shingles, you can receive a shingles vaccine after 1 year.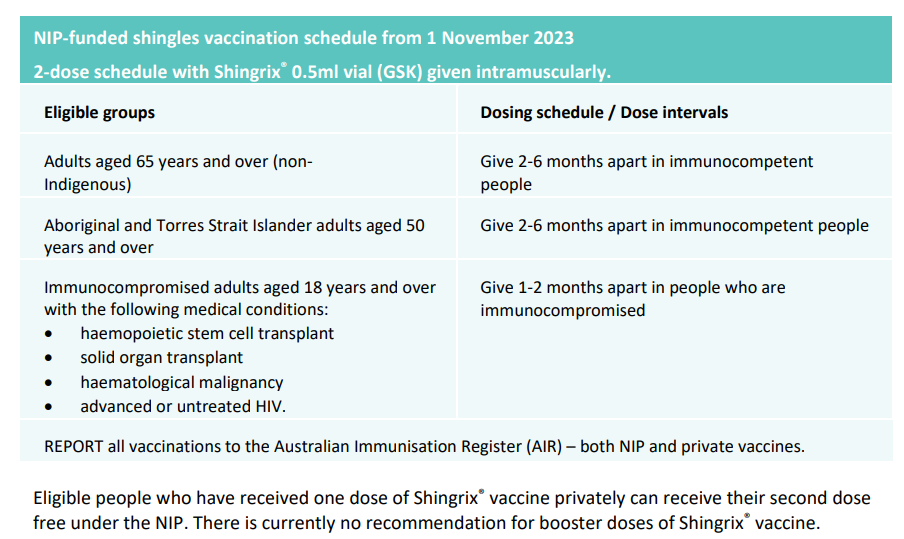 Movember – A Reminder of Men's Health
As we enter the month of Movember, it's an important reminder to prioritize men's health. Movember is a movement that encourages men to grow mustaches to raise awareness about issues like prostate cancer, testicular cancer, and mental health. It's a gentle nudge for men to engage with their healthcare providers, schedule regular check-ups, and take charge of their well-being. Regular check-ups and open conversations with your GP can make a world of difference in early detection, prevention and managing health issues.
Reminder of Clinic Closure
Just a friendly reminder that the clinic will be closed Saturday 25th and Sunday 26th November due to Software Upgrade works