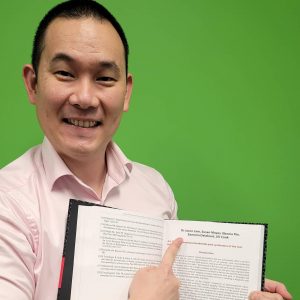 Dr Jason Lam loves to try new things. In addition to working two days a week as a GP at our sister clinic, Bluff Road Medical Centre, he has all sorts of different pursuits on the go.
"I always have to have something interesting or new happening," Dr Lam said. "I get bored extremely easily and I have a very short attention span. I always like to mix it up."
Here are just a few of the ways Dr Lam has been "mixing it up" recently.
He's completing Sports Medicine…
Jason is currently undertaking a second fellowship in Sports Medicine with the Australasian College of Sport and Exercise Physicians (ACSEP). As part of this, he trains in Sports Medicine three days a week.
He's been busy on the field (sort of)…
Earlier this year, Jason was appointed team doctor for the Sandringham Zebras. On any given match day, Jason is in the wings ready to offer spot treatment.
"If there are any other problems that pop up during the week or if there are issues like management of concussion or chronic injuries, then I get involved," he said. "Nothing much has happened this year, touch wood, so it's been pretty light-on."
He recently presented about concussion…
Jason recently taught a webinar with Dr Martin Raftery, ex Chief Medical Officer for World Rugby and a world-leading expert on concussion, for doctors and allied health from ACSEP on concussion management in the community setting. "It was well received and showed the interest in concussion management," Jason said.
"I think concussion is a super important issue, particularly with the typical Australian sports of footy and rugby. We've seen it in the United States with their NFL, and we're becoming more aware of it at the elite level of AFL and VFL with a bit in the media recently; it's so important to protect young brains.
"I work with the VFL and have also worked in combat sports, and we've gotten a lot stricter with our concussion protocols, but there is still some confusion about how to assess and manage at the community level. The good thing is that if it is managed early and well, most people recover very well."
He's written an online Dance Medicine module…
Jason recently authored and presented an online module on Dance Medicine for the Sport and Exercise Medicine Academy, the premier sport and exercise medicine resource.
As an ex-professional dancer and the Crichton Dance Medicine Fellow at the Australian Ballet, Jason is well-versed on the topic. "There are very stereotypical injuries that a lot of dancers get which a lot of doctors aren't super familiar with," Jason said. "This module explains how to recognise and manage them."
He has published some incredible work…
Jason co-wrote a textbook chapter on Neuromuscular pain syndromes of the foot and ankle with world experts in the field, including Dr Susan Mayes, Dr Ebonie Rio, Prof Eamonn Delahunt and Prof Jill Cook. Jason did all the medical illustrations too (he has a degree in visual arts).
Jason also presented a paper on a novel, non-surgical technique for the management of finger fractures (this was six years in the making) at the International Federation of Societies for Surgery of the Hand in 2019, the premier, triennial conference for hand surgery, and is a co-author on a series of papers on posterior impingement in dancers and athletes.
As if that's not enough, there's more on the horizon…
Jason has several other papers in the works. In addition, he is organising a Delphi consensus – a process whereby experts in their field debate medical questions and agree on a set of guidelines.
Jason's proposed topic: What is an appropriate amount of training for young dancers? "I'm seeing a lot of overuse injury in young dancers and I believe that some are doing too many hours… 30 hours+ a week in some cases in preteen and early teen years," he said. "I think it's probably excessive, not just in terms of physical health, but also mental health."
He is an evangelist for point of care ultrasound, developing and delivering RACGP's introductory course on point of care ultrasound for GPs.
Jason is also in the process of growing his own Sports Medicine practice at Bluff Road, with a particular interest in dancers and performing artists. More info: http://www.thedancedr.com.au
Ready to book in with Dr Lam?
Jason consults at Bluff Road Medical Centre on Mondays and Tuesdays. Book online or phone 9598 6244.
To make an appointment with one of our doctors at Bayside Family Medical, book online or call 9583 1630.